Welcome to the M.D. of Wainwright
The M.D. of Wainwright is situated in the heart of the agriculture and oil industries and is a major partner with one of Canada's largest military training bases. This makes the M.D. of Wainwright an area of diverse wealth both socially and economically and allows us to provide our residents with many services and the benefit of low taxes.
In addition, the M.D. of Wainwright offers various historical and recreational attractions for residents and visitors.
The M.D. of Wainwright is a progressive community that is a great place to live, work and raise a family. We are glad to welcome you.
In 2016 the M.D. of Wainwright had a population of 4,479 living in 1,459 of its 1,768 total private dwellings, a change of 8.2% from its 2011 population of 4,138. With a land area of 4,156.56 km2 (1,604.86 sq mi), it had a population density of 1.1/km2 (2.8/sq mi) in 2016.
Council Meetings
Because of COVID-19, the M.D. of Wainwright will be streaming our Council meetings on both Facebook and Youtube. Council meetings are held every third Tuesday starting at 9:00 AM. Click on either link below to listen in.
https://www.facebook.com/mdofwainwright/
https://www.youtube.com/channel/UCU6ct0zwtlKvpNmqqSkZlbg
Our next scheduled Council meeting is July 21, 2020
M.D. Office Closed July 1, 2020
The M.D. of Wainwright offices will be closed on July 1, 2020 for Canada Day.
Annual Calendar Photo Contest
Send us your photos that capture the diversity of our agriculture industry and the environment within the M.D. of Wainwright.
For more information on how to enter click here.
Agricultural Service Board News & Events
ASB news and events announcments have been moved to the ASB page here.
Road Ban Notice
All road ban's in the M.D. of Wainwright have been lifted.
Public Sale of Land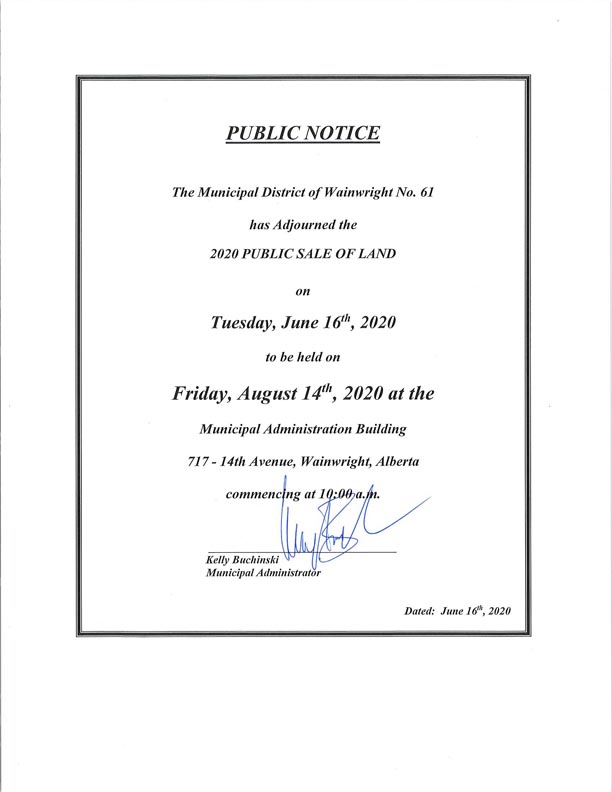 Campground Restrictions
All AHS social distancing rules will apply.
At this time, the campgrounds will only be open to Alberta residents.
If you are experiencing any signs or symptoms of illness, please stay home. We are relying on honesty to help curb the spread.
We are open to 100% capacity
Group Sites are open
Public Washrooms in the Clubhouse are open
Outdoor washrooms will be available
Single camper units in one site at a time, (exception is to allow a tent in that same site if it is being used by an immediate family member like a child or parent)
Beaches are open
Mini putt will be open, staff will sanitize the putters as they come in like the golf carts
Firewood is available @ $7.00/ bundle (Riverdale Mini-Park Only)
The clubhouse will offer partial sit down dinning however limited capacity will be monitored to allow proper distancing.
Club rentals will commence.
Tent will be permitted
Payments can now be made through PaySimply
The M.D. of Wainwright No. 61 is pleased to announce that you can now pay your taxes, utility bill and gravel invoice with your credit card through PaySimply.
We partnered with ATB Financial and through their unique partnership with PaySimply, you can now make payments with your credit card, within minutes.
Highlights include:
Secure – PaySimply doesn't store your payment information
Digital alternative to cheques and cash
You can earn points on any rewards credit card and have your taxes pay you back!
To pay your utility or gravel invoice with your credit card please go to https://www.paysimply.ca/Partner/Details.aspx?id=24857
To pay your taxes with your credit card please go to https://www.paysimply.ca/Partner/Details.aspx?id=24855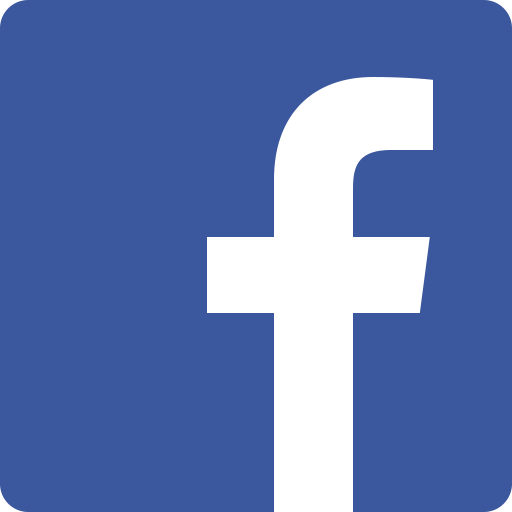 Join Us On Facebook