COVID-19 Information
The Alberta Emergency Management Agency is supporting Alberta Health and Alberta Health Services as they manage the impacts of COVID-19. All Albertans are encouraged to visit http://www.alberta.ca/coronavirus or dial 811 for guidance around prevention, testing and other useful information.
Playground Closure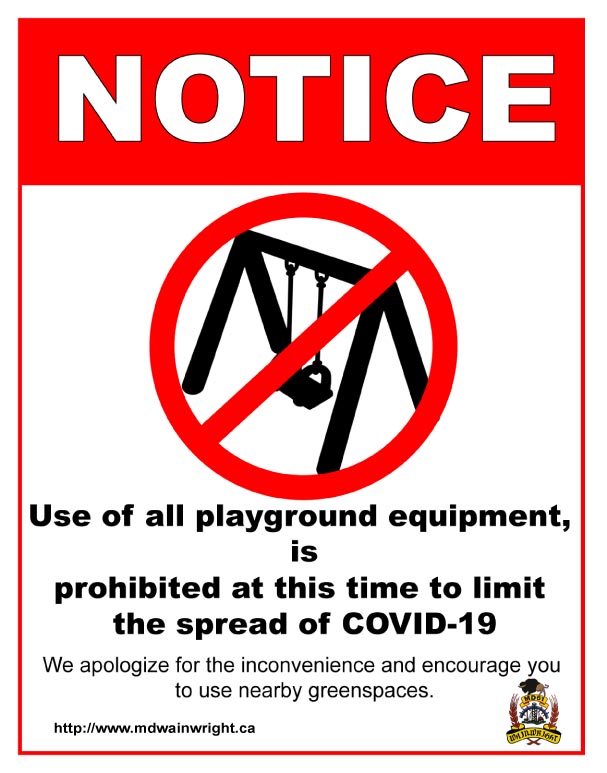 Welcome to the M.D. of Wainwright
The M.D. of Wainwright is situated in the heart of the agriculture and oil industries and is a major partner with one of Canada's largest military training bases. This makes the M.D. of Wainwright an area of diverse wealth both socially and economically and allows us to provide our residents with many services and the benefit of low taxes.
In addition, the M.D. of Wainwright offers various historical and recreational attractions for residents and visitors.
The M.D. of Wainwright is a progressive community that is a great place to live, work and raise a family. We are glad to welcome you.
In 2016 the M.D. of Wainwright had a population of 4,479 living in 1,459 of its 1,768 total private dwellings, a change of 8.2% from its 2011 population of 4,138. With a land area of 4,156.56 km2 (1,604.86 sq mi), it had a population density of 1.1/km2 (2.8/sq mi) in 2016.
Wainwright Regional Landfill
The Wainwright Regional Landfill will be RE-OPENING on Saturdays effective May 30th, 2020.
Saturday hours are 8:00 am to 3:45 pm
We encourage everyone to please practice physical distancing when visiting any of the landfill or recycling areas.
Thank you for your understanding and patience during the COVID-19 Saturday closure period.
A Guide to Pasture Rejuvenation

Strychnine Notice
The M.D. of Wainwright No. 61 is currently SOLD OUT of 2% liquid strychnine concentrate.
The M.D. of Wainwright has placed an order for additional 2% liquid Strychnine, however due to COVID-19 the manufacturer has not been able to access the product.
If you require 2% liquid Strychnine for the 2020 growing season, please contact the M.D. office at 780-842-4454 to have your name placed on a priority list, or, stay tuned to our webpage or Facebook page on future strychnine availability.
Riverdale Opening May 15th
Due to COVID-19 restrictions, Riverdale Mini-Park will only be opening to residents living within the M.D. of Wainwright boundaries including the Town of Wainwright, Villages of Irma, Edgerton and Chauvin at this time
Riverdale Mini-Park will be accepting booking over the phone only as of Monday May 11, 2020 and will be open for camping Friday May 15, 2020.
Please call the Riverdale Mini Park at 780-842-2996 for reservations during the following business hours:
Monday May 11, 2020 - 9 a.m. to 12 p.m.
Tuesday May 12, 2020 - 9 a.m. to 12 p.m.
Wednesday May 13, 2020 - 9 a.m. to 12 p.m.
Thursday May 14, 2020 - 9 a.m. to 12 p.m.
Campground Opening Restrictions
All AHS social distancing rules will apply.
At this time the campgrounds will only be open to Residents within the M.D. of Wainwright including the Town of Wainwright along with the Villages of Irma, Edgerton, and Chauvin.
If you are experiencing any signs or symptoms of illness, please stay home. We are relying on honesty to help curb the spread.
The Clubhouse along with all of its facilities will remain closed to the public.
Change Rooms along with all the outhouses and wash stations are to remain closed to the public.
Use of playgrounds and ball diamonds are prohibited at this time.
Mini Golf will stay closed to the public.
Campgrounds will only permit self-contained campers, including water supply, holding tanks and personal washroom facilities. (R.V.'s and Travel Trailers.) NO TENTING ALLOWED
Group Campsites will be prohibited to use at this time.
Campers are responsible to provide their own fire wood as the clubhouse and staff will be absent to assist.
All campers are responsible for collecting and disposing of their own garbage in one of the large dumpsters on site. There will be no garbage cans throughout the park.
No large gathering are permitted at this time. If you plan on socializing, you must follow the recommended guidelines of social distancing.
All posted signage and restrictions are to be followed. Anyone found neglecting or ignoring the rules of the campgrounds may result in repercussions accompanied by local law enforcement, along with an immediate ban of the facility.
Spring Clean Up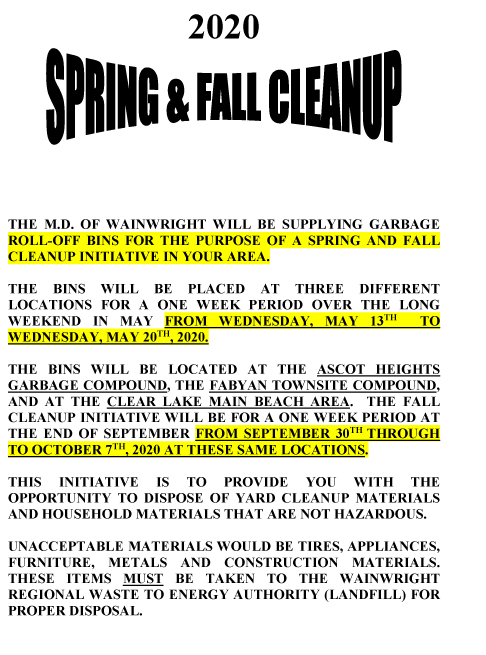 Municipal Campgrounds Notice
Due to the COVID-19 pandemic, the following M.D. of Wainwright camp/recreation facilities will remain closed until further notice. We will be monitoring the situation every two weeks and will release an update accordingly.
- Riverdale Mini-Park;
- Arm Lake Recreation Area;
- Fabyan Campsite;
- Ambler Campsite;
- Ribstone Campsite; and
- Salt Lake.
The boat launch at the Arm Lake Recreation Area is not accessible to the general public due to Arm Lake being temporarily closed. The boat launch at Clear Lake remains unrestricted unless Alberta Health Services imposes restrictions on lake use and boating. These conditions will be reviewed by the M.D. every two weeks or as per Alberta Health Services directives.
If you have any questions please contact our office at (780) 842-4454.
2020 Public Auction Services
The Municipal District of Wainwright No. 61 seeks innovative proposals from interested parties for the Public Auction of two (2) 2017 Volvo AG30 Trucks and (2) two 2015 K-Tec ADT 1228 Scrapers by a Third Party Auction Service. Interested parties are invited to review the detailed project package for additional information. The package may be obtained by calling the M.D. office, 780-842-4454, during regular business hours or at www.purchasingconnecton.ca.
The M.D. of Wainwright reserves the right to waive informalities in, or reject any or all prices, or accept the price deemed most favorable in the interest of the M.D. The lowest or any price may not necessarily be accepted.
Submissions marked "Municipal District of Wainwright No. 61 Request for Proposal for Sale of M.D. Equipment" will be accepted until 11:00 a.m. May 15, 2020 at the address indicated below.
As a result of Covid-19 and social distancing measures, the MD of Wainwright is closed to the public. Prior to delivering a proposal, submitters shall call the MD of Wainwright office at 780-842-4454 between the hours of 8:30 a.m. and 4:30 p.m. (Closed 12:00 – 1:00) Monday to Friday and make an appointment for the proposal delivery. Instruction on the delivery shall be given at the time the appointment is made.
Municipal District of Wainwright No. 61
717 – 14th Avenue
Wainwright, Alberta
T9W 1B3
Pest Surveys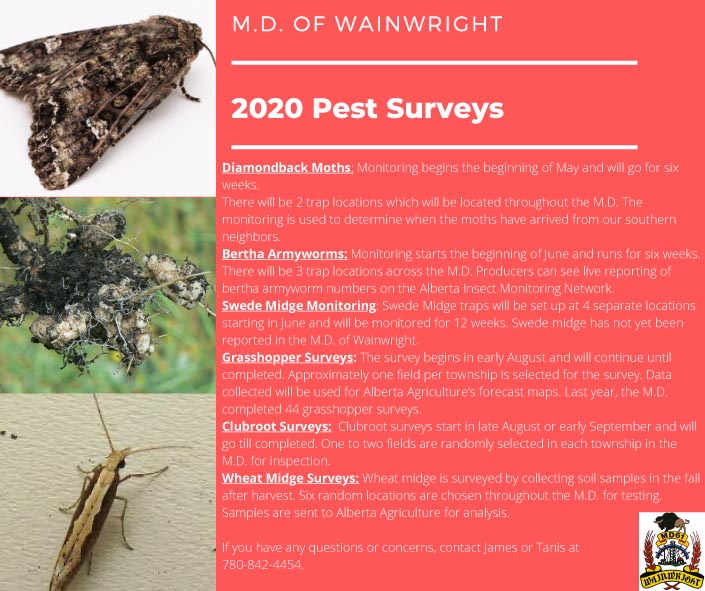 Grazing School for Women - Cancelled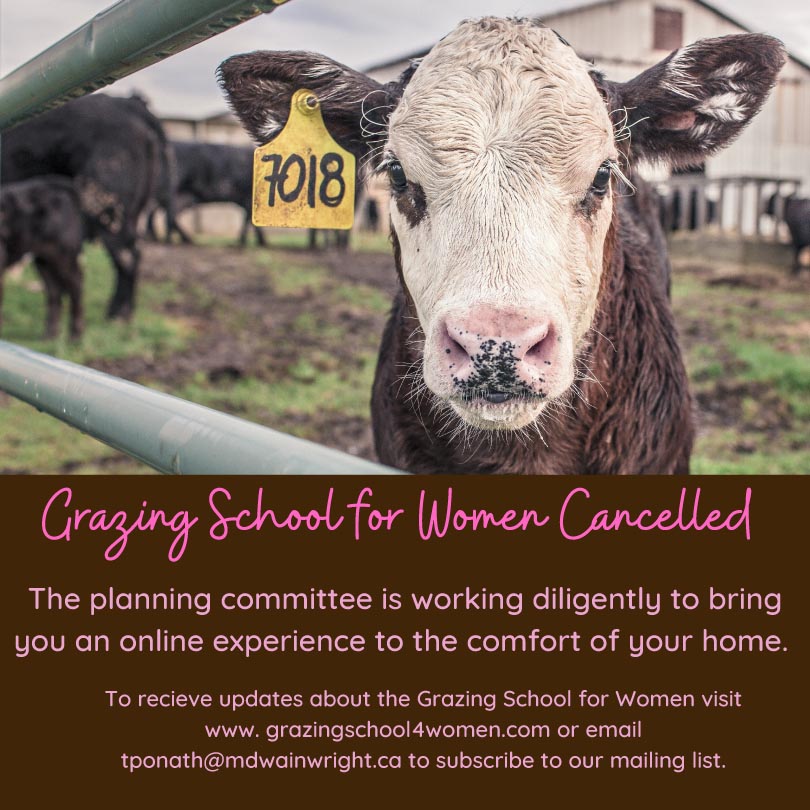 Road Ban Notice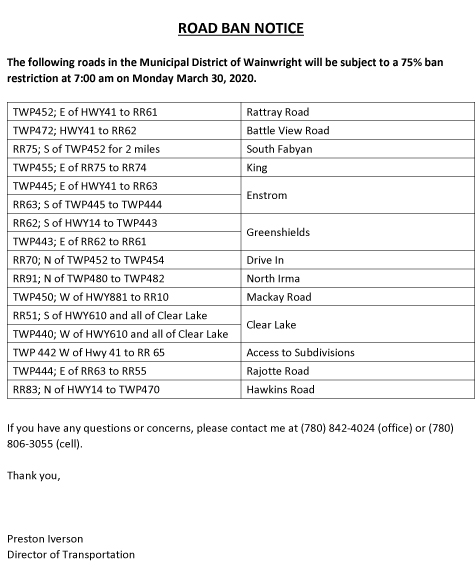 M.D. of Wainwright Office and Public Works Closed to Public
In order to minimize exposure of our staff and the public to the COVID-19 coronavirus, the MD has closed its Administration Office and Public Works shops in Wainwright, Irma, Edgerton and Chauvin, to the public.
Business can be conducted with the M.D. of Wainwright by email, phone (780-842-4454). Any bill payments or taxes can be paid online through your bank or by using Pay Simply. You can also send cheques through the mail or use the mail slot on the M.D. Administration Office front door.
Thank you for your understanding and patience.
Landfill Temporarily Closed Saturdays Starting March 21, 2020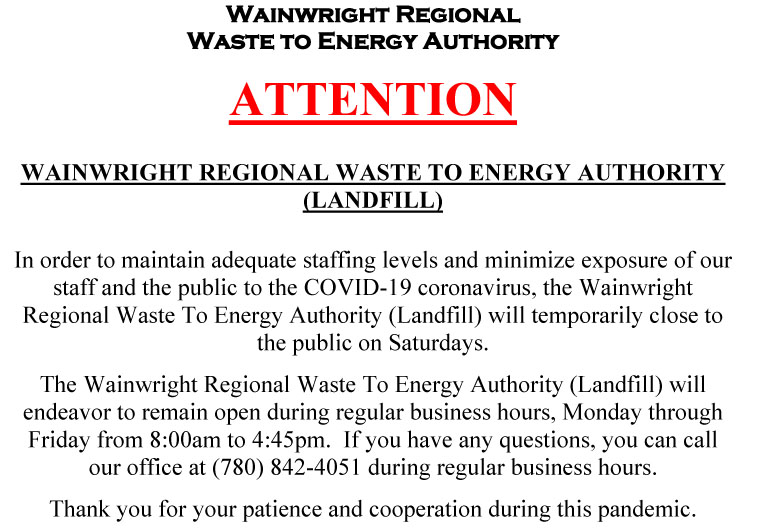 The Efficient Grain Dryer Program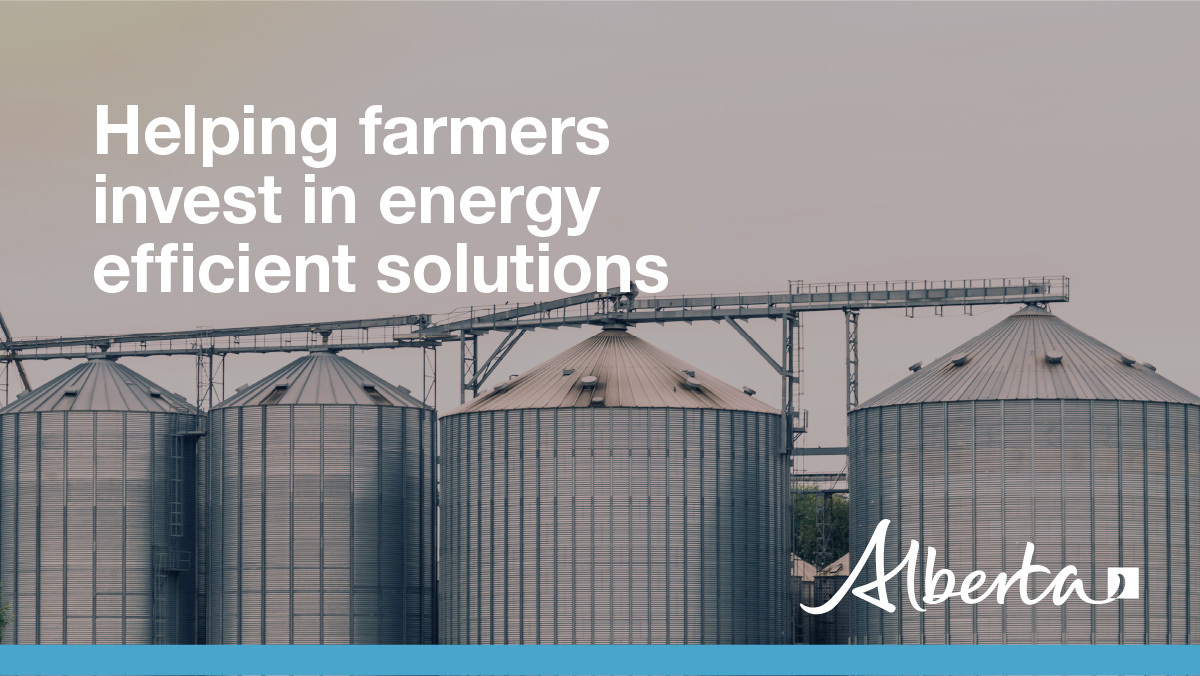 Farmers hit with tough harvest condition are eligible for a new grant to help cover the costs of grain dryer equipment that will improve energy efficiency within their operations. For more information go to Alberta Government News website.
How's Your Infrastructure Doing?
Infrastructure is important! After all, a functional infrastructure system is the physical foundation of a healthy, productive, and vibrant community. Without it, our lives would be a lot less convenient and a lot more difficult.
Municipalities right across Canada are dealing with aging infrastructure like pipes, roads, sidewalks, bridges and buildings. This is true right here in the MD of Wainwright.
See this page for the full article.
Payments can now be made through PaySimply
The M.D. of Wainwright No. 61 is pleased to announce that you can now pay your taxes, utility bill and gravel invoice with your credit card through PaySimply.
We partnered with ATB Financial and through their unique partnership with PaySimply, you can now make payments with your credit card, within minutes.
Highlights include:
Secure – PaySimply doesn't store your payment information
Digital alternative to cheques and cash
You can earn points on any rewards credit card and have your taxes pay you back!
To pay your utility or gravel invoice with your credit card please go to https://www.paysimply.ca/Partner/Details.aspx?id=24857
To pay your taxes with your credit card please go to https://www.paysimply.ca/Partner/Details.aspx?id=24855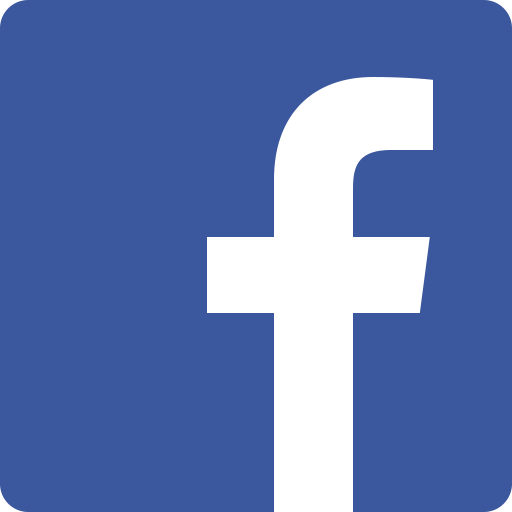 Join Us On Facebook