The M.D. of Wainwright is situated in the heart of the agriculture and oil industries and is a major partner with one of Canada's largest military training bases. This makes the M.D. of Wainwright an area of diverse wealth both socially and economically and allows us to provide our residents with many services and the benefit of low taxes.
In addition, the M.D. of Wainwright offers various historical and recreational attractions for residents and visitors.
The M.D. of Wainwright is a progressive community that is a great place to live, work and raise a family. We are glad to welcome you.
In 2016 the M.D. of Wainwright had a population of 4,479 living in 1,459 of its 1,768 total private dwellings, a change of 8.2% from its 2011 population of 4,138. With a land area of 4,156.56 km2 (1,604.86 sq mi), it had a population density of 1.1/km2 (2.8/sq mi) in 2016.
Employment Opportunity: Public Works Summer Students
The M.D. of Wainwright is inviting applications for Public Works
Summer Students for the 2020 season.

Qualified applicants must have a valid class 5 driver's license.

Competition closing February 7th , 2020 @ 4:30 p.m.

Further details and information may be obtained by contacting the
Director of Transportation – Preston Iverson at 780-806-3055 or the
Public Works Shop at 780-842-4024

Preston Iverson, Director of Transportation
M.D. of Wainwright No. 61
717-14th Avenue
Wainwright, AB T9W 1B3
Fax: 780-842-2463
Email: This email address is being protected from spambots. You need JavaScript enabled to view it.

Only those requested for an interview will be contacted.
Employment Opportunity: Riverdale Mini-Park
The Municipal District of Wainwright No. 61 is accepting applications for seasonal positions at
Riverdale Mini-Park. The positions are for Clubhouse Workers and a Grounds Crew Worker who
will be under the direction of the Riverdale Mini-Park Manager and the Director of Safety/Parks
and Rec.

Clubhouse Workers

Seeking College students and a High school student

College students available to work from the beginning of May until the end of August

High school student available to work from the beginning of July until the end of August;
as well as, part-time in May and June.
Grounds Crew Worker – Outside Maintenance

Available to work from the beginning of May until the end of August, with the possibility
of extending to the end of September.


Further information regarding these positions may be obtained by contacting Ray Morrison,
Director of Safety/Parks and Rec. at 780-806-9326.


Closing date: February 7th, 2020


If you are interested, please state which position you are applying for and forward your resume to:
Ray Morrison, Director of Safety/Parks and Rec.
Municipal District of Wainwright No. 61
717 – 14th Avenue
Wainwright, AB T9W 1B3
Fax: 780-842-2463
Email: This email address is being protected from spambots. You need JavaScript enabled to view it.
We thank all applicants for interest expressed in this competition, however only those selected for an
interview will be contacted.
Seeking Albertans' input on agricultrue research
The government is holding engagement sessions and launching an online survey to gather feedback about the future of agriculture research in Alberta.
"We are working with farmers to determine their research priorities. This is an opportunity to transform how we do research and attract investment from the private sector. I see world-leading agricultural research happening here, either by leveraging work happening in existing facilities or building brand new ones."
Devin Dreeshen, Minister of Agriculture and Forestry
There are six public engagement sessions throughout the province. The government will be seeking input on:
what farmer-led research means to Albertans
farmer-led research priorities
governance models for delivering farmer-led research
Please click the link to the closest session to you. You will need to register to attend.
Vermilion, January 21, 9 to 11 am
Camrose, January 21, 2:30 to 4:30 pm
Lethbridge, January 13, 10 to 12 pm
Grande Prairie, January 17, 2 to 4 pm
Olds, January 23, 2 to 4 pm
Calgary, January 24, 10 am to 12 pm
You can also fill out the online survey and is open until January 31, 2020.
Happy New Year
Council and staff at the M.D. of Wainwright would like to wish everyone a happy New Year! We have returned to regular office hours.
Thank You John Campbell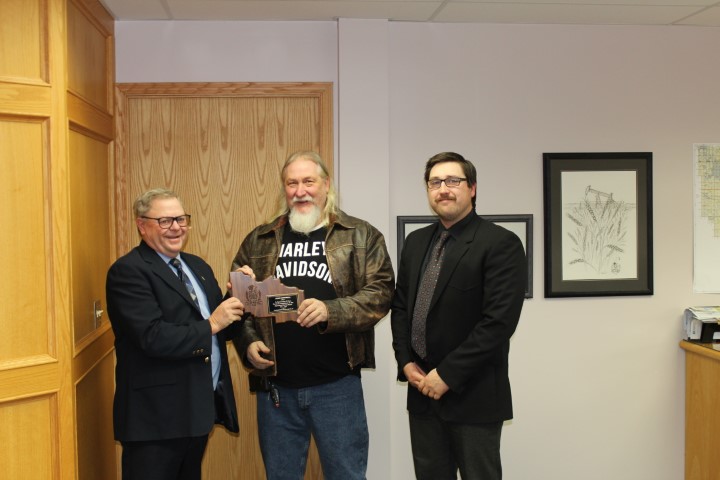 Reeve Bob Barss and Councilor Ryley Andersen thank John Campbell for his three years of service as a Farm Member on the Agricultural Service Board.
Winter Wetlands Functions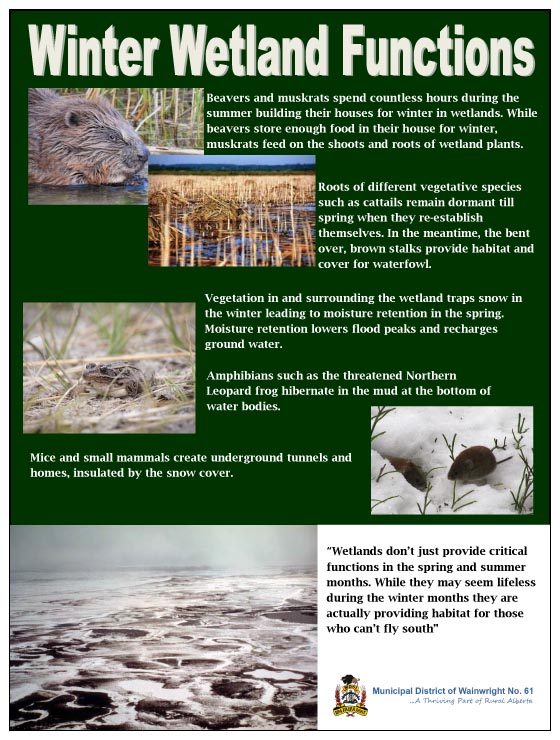 How's Your Infrastructure Doing?
Infrastructure is important! After all, a functional infrastructure system is the physical foundation of a healthy, productive, and vibrant community. Without it, our lives would be a lot less convenient and a lot more difficult.
Municipalities right across Canada are dealing with aging infrastructure like pipes, roads, sidewalks, bridges and buildings. This is true right here in the MD of Wainwright.
See this page for the full article.
Payments can now be made through PaySimply
The M.D. of Wainwright No. 61 is pleased to announce that you can now pay your taxes, utility bill and gravel invoice with your credit card through PaySimply.
We partnered with ATB Financial and through their unique partnership with PaySimply, you can now make payments with your credit card, within minutes.
Highlights include:
Secure – PaySimply doesn't store your payment information
Digital alternative to cheques and cash
You can earn points on any rewards credit card and have your taxes pay you back!
To pay your utility or gravel invoice with your credit card please go to https://www.paysimply.ca/Partner/Details.aspx?id=24857
To pay your taxes with your credit card please go to https://www.paysimply.ca/Partner/Details.aspx?id=24855
CAP Announcment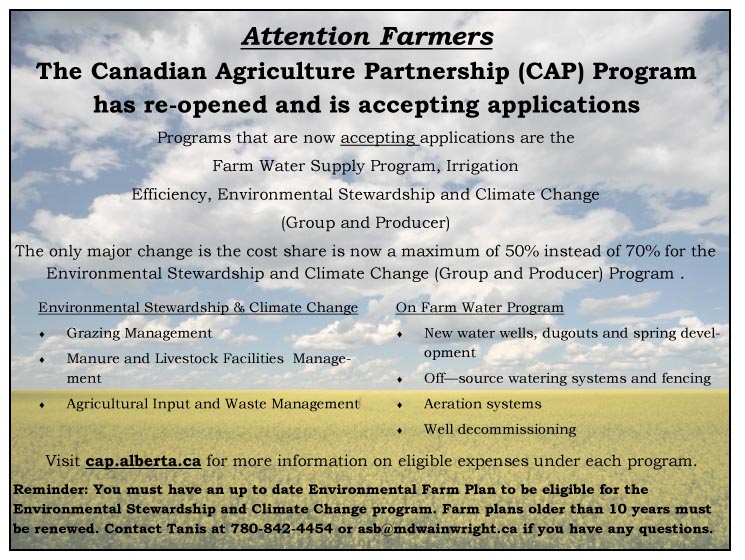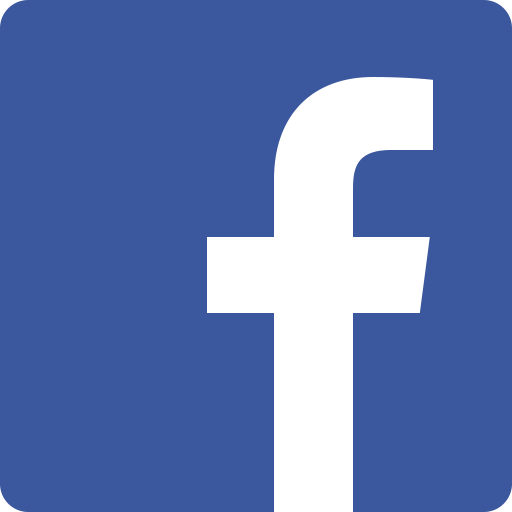 Join Us On Facebook