For booking and information please call 780-842-2996
Campground Rates – Effective for the 2024 Season
| | | | | |
| --- | --- | --- | --- | --- |
| | Daily | Weekly | Monthly | Seasonal |
| Non Serviced | $15 | $95 | $393 | $1,823 |
| Power | $26 | $160 | $664 | $3,086 |
| Power & Water | $28 | $174 | $725 | $3,366 |
| Full Service | $32 | $196 | $816 | $3,787 |
Reservations can only be made in person or by calling Riverdale directly at 780-842-2996.
2023 Booking Dates:
TBA
Hours of Operation:
TBA
*Hours of Operation may be different on days surrounding the long weekends.
| | | |
| --- | --- | --- |
| | Day | Two-Day |
| Group Sites A | $35 | $46 |
| Group Sites C (Tenting Only) | $58 | $92 |
| Group Sites D & E | $58 | Two-Night $92 |
| Picnic Only at day sites | No Charge | No Charge |
Reservations for group sites can be made one calendar year in advance.  For example, a group site reservation can be made in 2023 for a date in 2024.
Group site fees must be paid at the time of the booking, even if the reservation date is in the following calendar year.
All group site fees are non-refundable.
If guests will be camping in the group site, these fees are charged on a per unit basis and fees must be paid at the check-in date. Each guest is charged $25.00 per night.
If guests will be camping elsewhere within the campground, fees must be paid at the time of reservation, during the designated reservation dates.
Please be advised that Riverdale Mini-Park has limited cell phone service.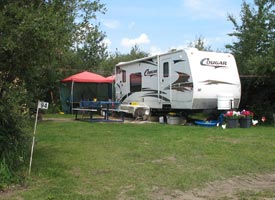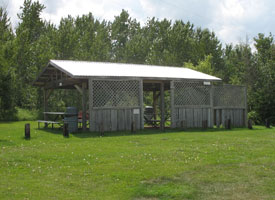 Riverdale Reservation Policy
All camping fees are to be PAID UP FRONT in the form of cash, cheque, debit or credit card. No reservations are to be taken without payment being received. If paying by credit card please have your card ready as cards are not kept on file.
Any additional camping units on the same site will be subject to the power rate of $22.00 per night and must be cleared through the clubhouse staff in advance. Tents will be subject to the non-service rate of $13.00 per night.
Reservations made in person will have priority over telephone calls. Absolutely no fax or email requests will be accepted.
Annually in September, seasonal campers of the current year are provided the opportunity to pre-book their seasonal sites for the upcoming year. Prepayment is required (in the form of a post-dated cheque) as well as a signed agreement. The current year's seasonal camper has first choice to their site number for the upcoming year. If there is no claim to a site by the current year seasonal camper by September 4, 2020, the site will become available to the public on a first come first serve basis.  Please contact the clubhouse at 780-842-2996 if you would like more information.
All prices subject to change.
Riverdale Cancellation Policy
For daily and weekly reservations, one night's camping fee will be retained for each cancellation. All cancellations must be made to the clubhouse on or before 2:00 p.m. of the check-in date. For cancellations of monthly and seasonal reservations, a 10% administration fee will be charged on the original reservation fee paid. Partial cancellations of reservations will require the reservation to be reassessed to determine whether a monthly, weekly, or daily rate now applies. Reservations fees paid for group sites are non-refundable.
Golfing Rates – Effective for the 2024 Season
| | |
| --- | --- |
| Front 9 | $14.00 |
| Back 9 | $14.00 |
| 18 Holes | $23.00 |
| All Day | $26.00 |
| Children 10 & Under | $7.00 |
| Mini-Golf | $3.00 |
Golf Memberships
Annual Family Membership
(Parents and dependent children 17 & under living in the same household)
$230.00
Annual Single Membership
(One individual only)
$144.00
Student Membership
(One individual attending elementary, junior, high school or post secondary school – age limit of 25)
$58.00
Rentals
| | |
| --- | --- |
| Power Cart Rental (Per 9 holes) | $18.00 |
| Pull Cart Rental (Per 9 holes) | $6.00 |
| Club Rental – (Mens & ladies Per 9 holes) | $9.00 |
| Club Rental – (Junior Per 9 holes) | $6.00 |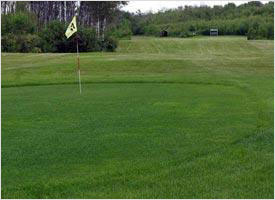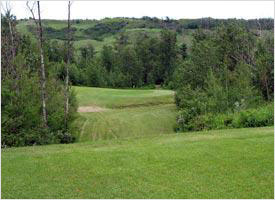 For more information please call 780-842-2996