For booking and information please call 780-842-2996
2023 Booking Dates:
April 24th, 2023 – Seasonal & Monthly
April 25th, 2023 – Seasonal, Monthly & Weekly
April 26th – April 28th, 2023 – All Bookings
Hours of Operation:
May & June
Sunday to Friday 9:00 a.m. – 8:00 p.m.
Saturday's: 9:00 a.m. – 9:00 p.m.
July & August
Monday's – Friday's: 9:00 a.m. – 9:00 p.m.
Saturday's & Sunday's: 8:00 a.m. – 9:00 p.m.
September
Monday's – Thursday's: 9:00 a.m. – 8:00 p.m.
Friday's & Saturday's: 8:00 a.m. – 8:00 p.m.
Sunday's: 8:00 a.m. – 6:00 p.m.
*Hours of Operation may be different on days surrounding the long weekends.
The campground consists of 38 fully serviced (power, sewer and water), 23 power and water, 49 power, and several non-serviced sites located at various locations throughout the river valley. The sites range in size and are sheltered by plenty of beautiful trees. An RV dump station is also available for campers.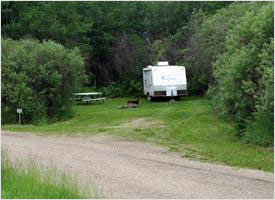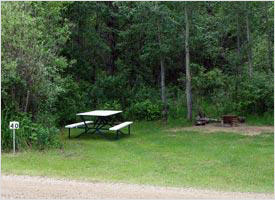 There is a small beach at the river available to relax at or enjoy a swim in the river. The area also offers picnic areas, a playground, 5 group picnic shelters for day use one with a gas grill and firewood. There is a mini golf course located by the main clubhouse, two ball diamonds and horseshoe pits available for anyone not up for a game of golf.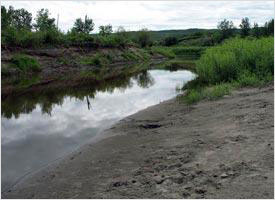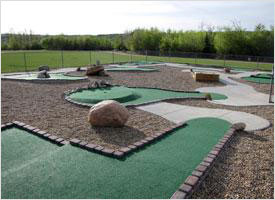 There is an abundance of wildlife, which can be seen and enjoyed by a nature lover. Saskatoon berry and chokecherry bushes can also be found in the area. Cross-country skiing can also be enjoyed here during the off-season.