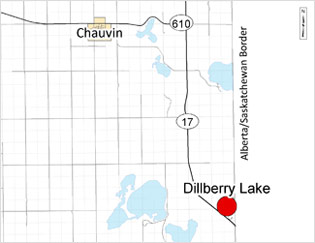 Dillberry Lake Provincial Park is part of Alberta's system of Parks and Protected Areas, dedicated to preserving the diversity of the province's natural heritage. The park is recognized as an important rest stop for migratory shorebirds and as a nesting site for the Piping Plover, an endangered species. Attractions include glistening lakes, rolling hills and a beautiful sand dune setting. Dillberry Lake is located 15 km South of Chauvin on Highway 17 or 75 km South of Lloydminster on Highway 17 (at Alberta/Saskatchewan border), or alternately 20 km East of Provost on Hwy 13 & 27 km North on Highway 17.
Dillberry Lake features 234 serviced and unserviced sites as well as day shelters that are open until October 13. The park has playgrounds, concession, RV dump and two beaches – day use beach & campers beach. Other activities include hiking, canoeing/kayaking, fishing, power boating, sailing, swimming, water-skiing and windsurfing. Limited campground facilities & services are provided after September 16 (power is on until Oct. 13). Day use areas are open year-round, snow conditions permitting (access/internal roads not plowed). Access to boat launch is maintained year-round for ice fishing.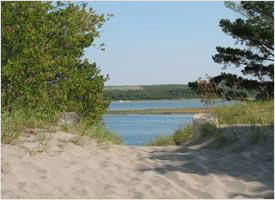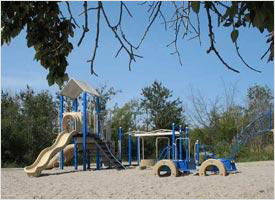 You can explore the natural plants, animals and bird life of Central Alberta Parkland while traveling along the 6 kilometres of Kettle Lake Trail within the Provincial Park. You can also use your mountain bike along the trails west of Highway 17.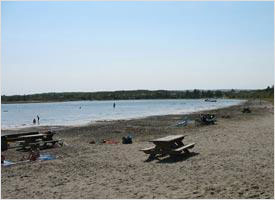 Dillberry Lake Provincial Park is home to the Piping Plover, a bluebird-sized shorebird occasionally seen on shorelines of saline lakes and sloughs. Plovers arrive in Alberta from the Gulf of Mexico in late April to breed and raise their young. Nests are established on sparsely vegetated gravel beaches in a shallow bowl lined with pebbles. Many nesting areas are located near or in Dillberry Lake Provincial Park. Less than 6000 Piping Plovers remain worldwide. Populations in Alberta have declined by half since the mid-1990's to roughly 150 individuals in 2001. Threats to these birds include depredation on nests and chicks, livestock activity, extended drought, off-road vehicle use and other human activities.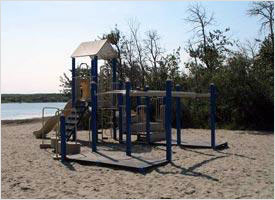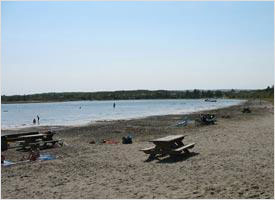 Dillberry Lake is also home to over 200 species of birds, including 30 species of shorebirds that have been seen in the park. This provincial park is located along an internationally important shorebird migration route. The mud flats, marshes and meadows on the shallow, saline (salty) lakes in the park provide suitable nesting sites and food sources for many types of shorebirds. The largest concentrations of Stilt Sandpipers in the world were recorded in this area.