Bill Lawson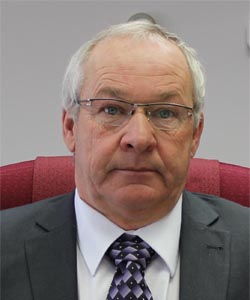 Bill was elected in 2013 representing Division #6  He was born and raised in the Irma district just North of Fabyan.  After finishing high school Bill worked at the Wainwright Coop for a bit before finding a Job as a professional firefighter.  He continued with that Job at CFB Wainwright for 31 years.  He and his wife Carol built a new home in 2000 and reside there just North of the farm where Bill grew up as a child.  Bill and Carol have 3 sons, Rob, Steven and Chad, all of which still live around the Irma area.  Rob presently farms with Bill where they run a mixed cattle and grain operation.  Steve sells for Webbs machinery out of Wainwright and Chad has his own Real Estate Business.  Currently they have 9 grandchildren who they enjoy immensely, which is also keeping them young at heart!
Phone: 780-754-2440
Cell: 780-842-0244
Email: blawson@mdwainwright.ca
Bill is the Councillor for Division 6, and was elected in 2013.
Councillor Lawson sits on the following boards:
Finance Committee
Intermunicipal Collaboration Committee
Policy Committee
Municipal Planning Commission
Irma Intermunicipal Planning Committee
Municipal Property Committee
Community Health Foundation
Battle River Watershed Committee
Irma Rural Recreation Area Board
Irma Library Board & Joint Use Committee
Battle River Alliance (BRAED)
Economic Development Committee
Wainwright Fire Area
Irma Fire Area
Wainwright Ambulance
Fire Wardens