The M.D. of Wainwright is situated in the heart of the agriculture and oil industries and is a major partner with one of Canada's largest military training bases. This makes the M.D. of Wainwright an area of diverse wealth both socially and economically and allows us to provide our residents with many services and the benefit of low taxes.
In addition, the M.D. of Wainwright offers various historical and recreational attractions for residents and visitors.
The M.D. of Wainwright is a progressive community that is a great place to live, work and raise a family. We are glad to welcome you.
Director of Protective Services/Fire Chief
The Town of Wainwright, a vibrant community of 6,300 is seeking a qualified and highly motivated individual for the full-time management position of Director of Protective Services. Reporting to the CAO, Director of Protective Services/Fire Chief is responsible for directing the Fire Department, supervising municipal bylaw enforcement, coordinating with the local RCMP detachment and preparing the town's disaster/emergency plan.
2018-19 Request for Roadside Mowing Proposals
The Municipal District of Wainwright No. 61 is now accepting price proposals for mowing operations for the 2018-2019 seasons. The requested price proposal is for a one (1) year contract with an M.D. option to extend for 2019. The M.D. further reserves the right to enter into contract for a further term extension(s) beyond 2019 conditional to a mutual agreement of both parties on price.
Click here for complete details
Alberta Environmental Farm Plan Renewal
Effective April 1, 2018
Producers who have an EFP older than 10 years will have to renew their EFP to eligible for new funding under the Canadian Agricultural Partnership Program (CAP)
It is strongly recommended that producers complete the renewal online to make future renewals easier,
FAQ's
Why is Alberta EFP instituting a renewal period?
Alberta is the only province that does not have a renewal period. EFP is harmonizing nationally and they expect all prov-inces will harmonize the renewal period
EFP's are part of sustainable sourcing programs in Canada (potato sustainability initiative, proAction, VBP). Alberta EFP is anticipating more initiatives will use EFP as the Environmental backbone of their sustainable sourcing initiative.

Who decided the renewal period would be instituted?
Alberta EFP Stakeholder Advisory Committee approved the renewal period
What does this mean to me?
For producers if you to apply for CAP grants you will need to have a current EFP.

Beat the rush by renewing before CAP funding becomes available!!!
Who Can I Contact?
Tanis Ponath, Assistant Agricultural Fieldman & EFP Technician, 780-842-4454
Gravel Hauling Opportunity
The Municipal District of Wainwright No. 61 ("MD") invites prices for the loading, hauling and spreading of gravel for the MD's 2018 gravelling requirements and the option year of 2019 (the "Work"). The Work involves approximately 60,000 metric tonnes and 10,400 miles of hauling for 2018 and a similar amount for the option year of 2019. Contractors will be required to complete the 2018 gravel hauling project by August 31, 2018. Contractors will also be required to provide all equipment necessary to complete this Work. The average haul distance for this Work is approximately 18-20 miles. The Work has been divided into Schedules D, E and F.
Those interested are invited to obtain a price submission package at the MD Administration Office located at the address indicated below. Written inquires may be submitted to Preston Iverson, Director of Transportation at This email address is being protected from spambots. You need JavaScript enabled to view it.. Telephone inquiries will not be responded to.
Sealed submissions clearly marked "2018 Gravel Hauling" will be accepted until 11:00 a.m. local time February 6, 2018 at the address indicated below.
Municipal District of Wainwright No. 61
717-14 Avenue
Wainwright, AB
T9W 1B3
Wainwright Regional Landfill Rate Change
Effective January 1st, 2018, the Wainwright Regional Landfill tipping fees will increase as follows. Plus GST on all Rates.
| | | |
| --- | --- | --- |
| | Current Rate | 2018 Rate |
| Clean Burnable Construction | $33.04 | $33.70 |
| Clean Concrete | $14.58 | $14.87 |
| Construction Waste | $99.08 | $101.06 |
| General Household Waste | $66.06 | $67.38 |
| Metal | $33.14 | $33.80 |
| Shingles | $33.14 | $33.80 |
If you have any questions please call the Wainwright Regional Landfill at 780-842-4051
Changes to the Growing Forward On-Farm Solar PV Program
In order to further align this program with Energy Efficiency Alberta Residential/Commercial Solar Program, they have updated the retroactive projects clause as follows:
Retroactive projects that have been completed after April 15, 2017 are now eligible for funding. If a project has been initiated (ordering or purchasing equipment, equipment delivery, component construction, etc) prior to April 15, 2017 it will NOT be accepted. All installed equipment will be held to the following standards:
1. The system's modules must have at least a 20 year pro-rated warranty from the manufacture.
2. The system's inverters and/or micro-inverters must have at least a 10 year warranty from the manufacture.
3. Solar racking must be manufactured by a qualified commercial racking company.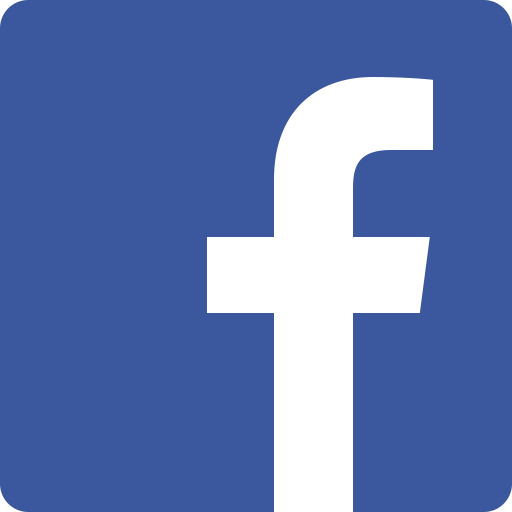 Join Us On Facebook
Road Closure Update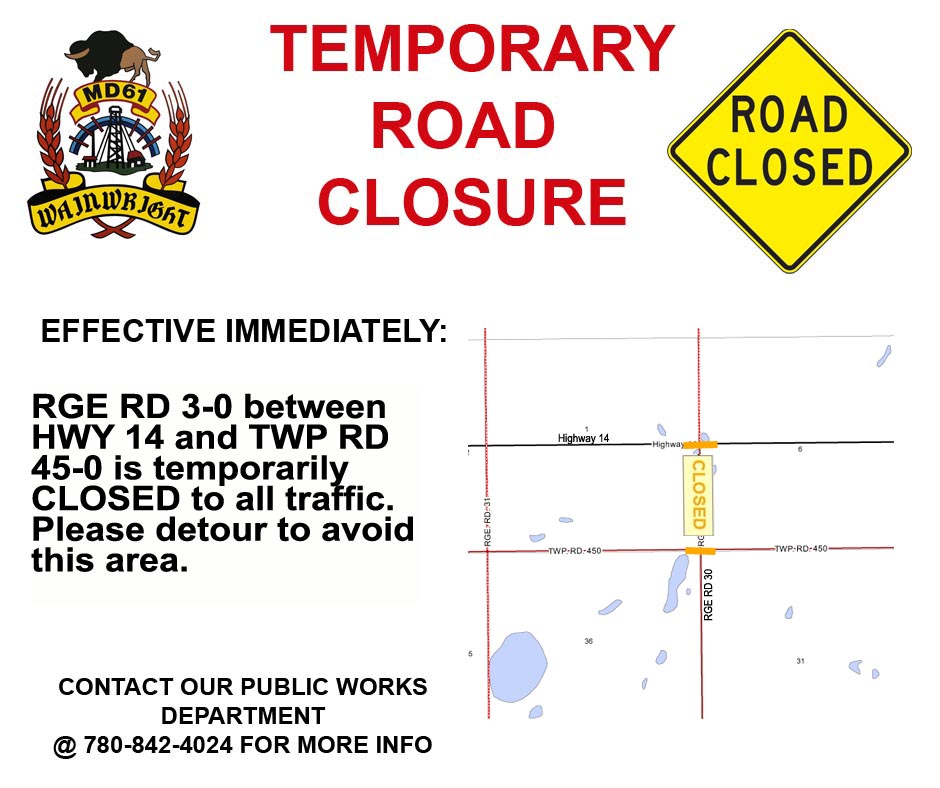 CLUBROOT OF CANOLA IS NOW HERE
It is recommended that all landowners ensure that any farm, industrial, recreational equipment or vehicles entering your land is clean of all dirt and/or field residue.
Clubroot of Canola is transferred by soil and it is
YOUR RESPONSIBILITY
To ensure foreign soil is not transferred onto your land.
Also be reminded that if you are purchasing equipment/machinery, using custom operators, have industrial traffic or allow recreational vehicles on your land it is
YOUR RESPONSIBILITY
To ensure the equipment is clean and free of dirt/field residue prior to it entering your land.
For more information:
Contact the M.D. of Wainwright
Office at 780-842-4454
Road Closure Update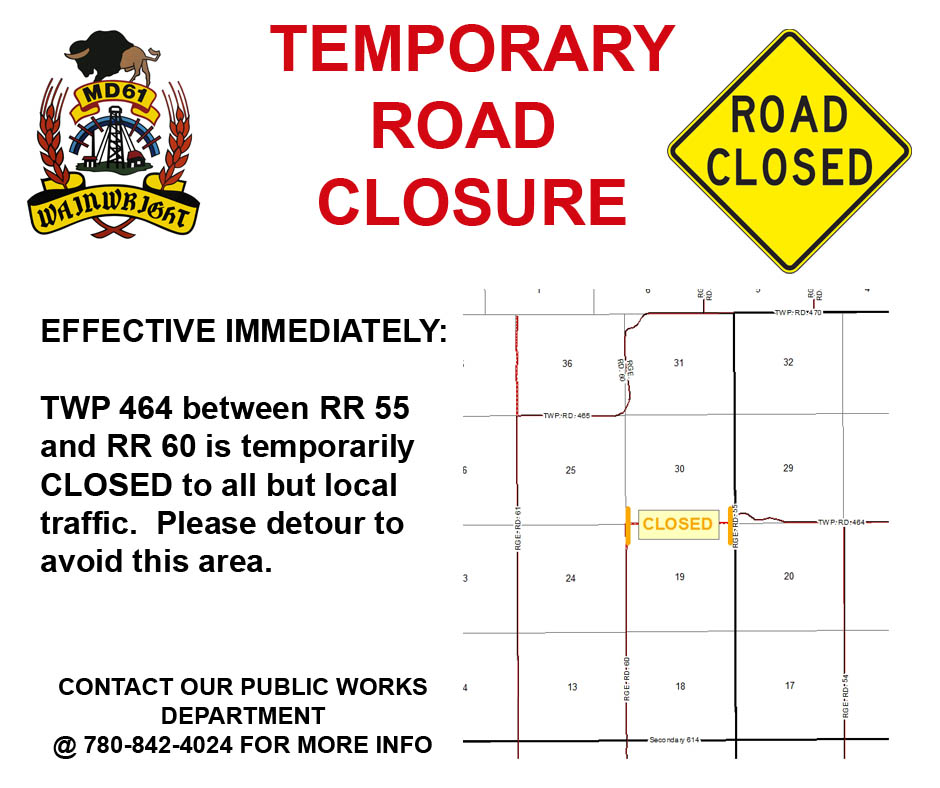 The M.D. of Wainwright has re-opened the 4 miles West of highway 897 on Twp Rd. 454.
The 1 mile of construction road on TWP 464 between RR 55 and 60 is still closed.
Thank you for your cooperation.