The M.D. of Wainwright is situated in the heart of the agriculture and oil industries and is a major partner with one of Canada's largest military training bases. This makes the M.D. of Wainwright an area of diverse wealth both socially and economically and allows us to provide our residents with many services and the benefit of low taxes.
In addition, the M.D. of Wainwright offers various historical and recreational attractions for residents and visitors.
The M.D. of Wainwright is a progressive community that is a great place to live, work and raise a family. We are glad to welcome you.
Agriculture Service Board Participation
The Municipal District of Wainwright is looking for a farm member representative.  The individual appointed must be a resident and a ratepayer of the M.D. of Wainwright and willing to sit for a three year term.   Members are provided remuneration and expenses for attending board meetings. 
Those interested are asked to submit a letter and/or resume, to the address below, including reasons why they are interested by October 16th, 2015 at 4:30 p.m.  If you have any questions, please contact the M.D. office at 780-842-4454.
Municipal District of Wainwright No. 61
C/O James Schwindt, Ag. Fieldman
717 14th Avenue
Wainwright, Alberta
T9W 1B3
Notice of Public Hearing
 
The Municipal District of Wainwright No. 61 in the Province of Alberta proposes to pass Resolution No.344.15 to remove the Municipal Reserve designation from a portion of land, approximately 0.185 acres of Block R-5, Plan 7821293, E 2-44-5 W4M. This area is located on the north side of Clear Lake Adjacent to Cabin #'s 115-121 to the north of the lots and south of SE 11-44-5 W4M in the M.D. of Wainwright

A Public Hearing will be held in the M.D. of Wainwright Council Chambers at 11:00 a.m. on Tuesday, October 20, 2015 where persons claiming to be affected by this change may voice their concerns. Concerns may also be expressed through written submissions mailed or delivered to the M. D. of Wainwright 717 – 14 Ave. Wainwright, Alberta T9W 1B3 Attention: Kelly Buchinski or presented at the public hearing. Written submissions must be received before or at the public hearing to be considered.

For further information, contact Kim Christensen, Development Officer at the M.D. Office (780) 842-4454.
Avian Influenza and small-flock poultry
Wild birds can carry avian influenza, and they can pose a risk to your poultry. Avian influenza can cause severe illness and death in your flock.
For more information please download this PDF to help reduce your risk.
Jimsonweed in Alberta
 

Alberta Agriculture and Forestry (AF) has received reports of Jimsonweed in Alberta. This is not a common weed found in Alberta, and producers need to be diligent to stop its spread.
It is important that producers handle this weed carefully to prevent further spread and potential health risks to livestock and humans. Proper handling information can be found below and on the Agriculture and Forestry website.

 
Congratulations to Jeff & Chelsey Eklund
Jeff & Chelsey Eklund were married on September 5th, 2015.  Congratulations from everyone at the M.D. of Wainwright.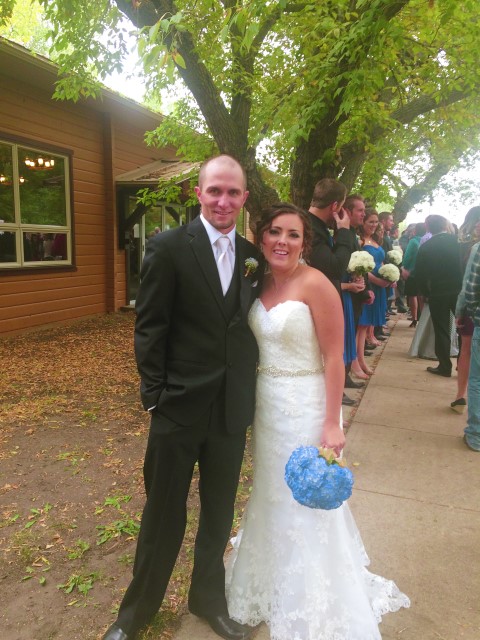 Riverdale Hours for September 2015
Club House Hours for September:
Sept 1,2,3: 9:00 AM - 5:00 PM
Sept 4,5,6,7: 8:00 AM - 8:00 PM
Sept 8 - Sept 30: 9:00 AM - 3:00 PM
Council Declares State of Agricultural Disaster
On July 31st, 2015 council held a special meeting declaring a state of agricultural disaster for the Municipal District of Wainwright No. 61.  The minutes of the meeting have been posted in the Council Meeting Minutes.  The Star News posted an article on their website.