Gravel Program
Councillor's requests for grading or graveling are forwarded to the Director of Transportation, Safety & Utilities who makes arrangements to dispatch the appropriate units through the Gravel Foreman. Councillors work in co-operation with the Director of Transportation, Safety & Utilities in mapping out all gravelling projects prior to the gravelling season.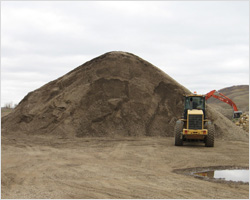 When a road is being gravelled, approaches to the road will be gravelled as requested. Hauling is arranged through the Municipal District of Wainwright. Approaches for residents at Clear Lake, Arm Lake and the Hamlets within the M.D. will receive a load of gravel (12 tonnes) once every three years or if required and authorized by the Director of Transportation, Safety & Utilities. Residents shall make a request for gravel by forwarding a written request to the M.D. Office. The Director of Transportation will arrange gravelling. A record of gravelling is kept up to date by the Public Works Clerk.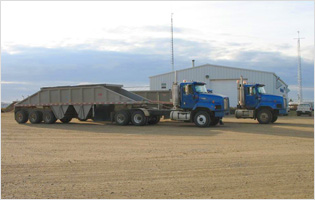 Upon written request from a ratepayer, the M.D. shall sell gravel at $10.00 per tonne up to a maximum of 125 tonnes per yard site every year. M.D. truckers or approved truckers shall be used to haul this gravel at M.D. rates. The ratepayer shall be responsible to pay the trucking costs directly to the trucker. Municipalities within the boundaries of the M.D. of Wainwright No. 61 may also purchase, upon written request, crushed gravel from the M.D. at the above rate.

Download Gravel Request Form as a PDF file

Download Permission to Enter and Hold Blameless