Welcome to the M.D. of Wainwright
The M.D. of Wainwright is situated in the heart of the agriculture and oil industries and is a major partner with one of Canada's largest military training bases. This makes the M.D. of Wainwright an area of diverse wealth both socially and economically and allows us to provide our residents with many services and the benefit of low taxes.
In addition, the M.D. of Wainwright offers various historical and recreational attractions for residents and visitors.
The M.D. of Wainwright is a progressive community that is a great place to live, work and raise a family. We are glad to welcome you.
In 2016 the M.D. of Wainwright had a population of 4,479 living in 1,459 of its 1,768 total private dwellings, a change of 8.2% from its 2011 population of 4,138. With a land area of 4,156.56 km2 (1,604.86 sq mi), it had a population density of 1.1/km2 (2.8/sq mi) in 2016.
Council Meetings
Because of COVID-19, the M.D. of Wainwright will be streaming our Council meetings on both Facebook and Youtube. Council meetings are held every third Tuesday starting at 9:00 AM. Click on either link below to listen in.
https://www.facebook.com/mdofwainwright/
https://www.youtube.com/channel/UCU6ct0zwtlKvpNmqqSkZlbg
Our next scheduled Council meeting is July 21, 2020
Press Release - M.D. Stands to Lose 10 Million Dollars
M.D. of Wainwright Stands To Lose 10 Million Dollars
The M.D. of Wainwright No. 61 is extremely concerned with and opposed to the changes to the assessment model for regulated properties such as wells and pipelines that was announced recently. This adjustment will affect the linear assessment within the M.D. of Wainwright. We have been told this is to enhance industry's competitiveness. The M.D. of Wainwright is in support of industry in the area, but this change in assessment will jeopardize Rural Alberta.
The assessment model is the method the province gives municipalities to raise revenues through taxation. Based on the potential changes presented by the province, the M.D. of Wainwright is poised to lose between $9,453,925 and $6,979,777, or between 30% and 22% of our total tax revenue. To offset this loss the M.D. of Wainwright could be required to increase the residential tax rate by between 290% and 393% and increase the non-residential tax rate by between 37.4% and 58.4%. Raising tax rates to off-set the impacts of the assessment model change will have the effect of simply transferring taxes from industry to other businesses and residents. This draconian change to the assessment model will force municipalities to enact a reduction in service levels and intermunicipal collaboration agreements, as the above increases are not realistic for our ratepayers. These changes will impact not only our municipality, but the entire region.
In addition, municipalities requisition amounts for schools and senior housing using the assessment model. Those rates will also need to be adjusted going forward to offset the revenues lost, or those services will be reduced.
There is no guarantee that the tax savings experienced will be put back into the local economy, as a majority of the benefit will profit global companies and their shareholders, not M.D. of Wainwright residents. This is in direct contrast to what a municipality does, which is work hard to keep dollars in our community.
The M.D. of Wainwright is giving you all this information in hopes you will be able to help us save Rural Alberta. Once this legislation is passed, we are heading down a path that will result in the decay of a viable Rural Alberta. We have been told we have until the middle of August to voice our displeasure.
For more information please contact the M.D. office at 780-842-4454 or visit our website at www.mdwainwright.ca where council member contacts and staff contacts are posted.
Sincerely,
Municipal District of Wainwright No. 61 Council
COVID-19 in the M.D. of Wainwright - Update
As of July 27, 2020 the Municipal District of Wainwright No. 61 has been placed on a "Watch list" by the province of Alberta. What this means for the residents and ratepayers of our area is the following: "Watch means: The province is monitoring the risk and discussing with local government(s) and other community leaders the possible need for additional health measures. This is a result of having at least 10 active cases and more than 50 active cases per 100,000."
https://www.alberta.ca/maps/covid-19-status-map.htm
Currently there are 10 active cases of COVID 19 within the MD of Wainwright. Do to the nature of COVID 19 these numbers may continue to climb. While people are becoming overloaded with information regarding COVID 19 it is crucial to continue following the directions of local authorities. Please stay tuned to our Facebook pages, website, and other means of communication to ensure that you are up to date with all current requirements. At this time there are no additional health measures being put in place.
We must remember to wash our hands often, physical distance when able, wear a mask when you are unable to physical distance or even to feel comfortable. We will all be at different levels of comfort with the COVID 19 pandemic and what it means to ourselves and family. Please be respectful towards each other.
August Civil Holiday
The M.D. of Wainwright No. 61 will be closed on August 3rd, 2020 for the civic holiday.
Farming the Web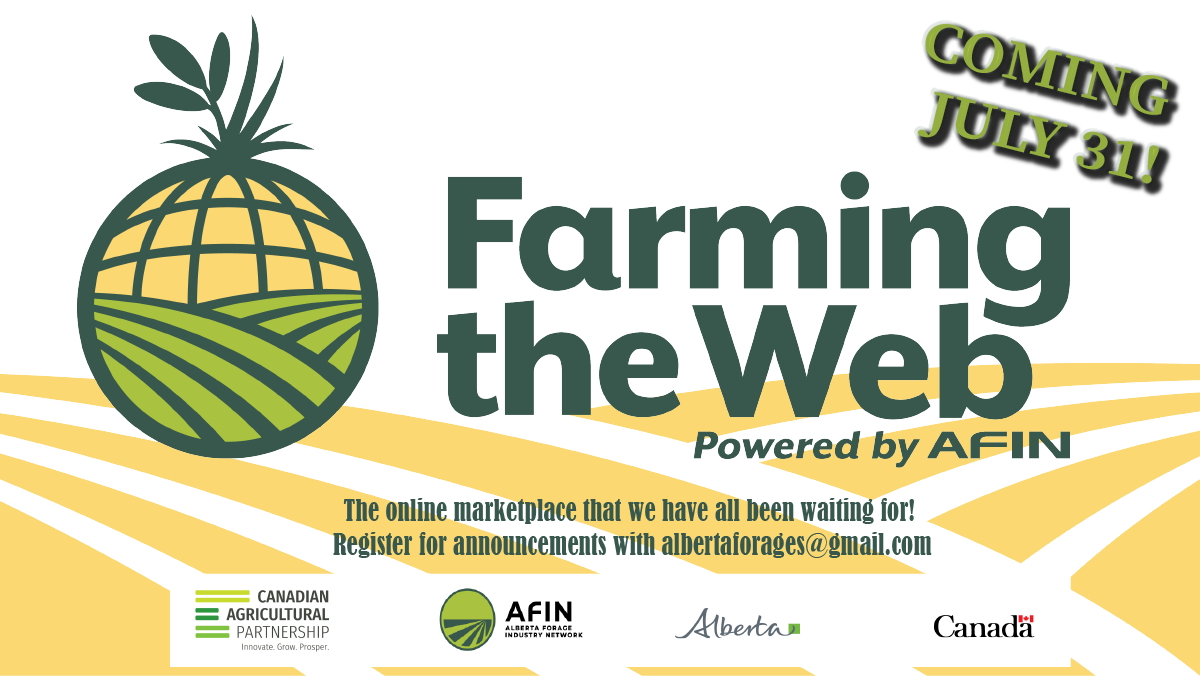 Road Side Mowing
Attention Rural Ratepayers
Road side mowing will begin July 15th
Mowers will be starting on the west end of the Municipality and moving their way East. We want to remind residents that all road side haying should have been completed by July 15th. If there is an existing swath the mowers will honour the swath but will not leave any areas.
If you have any questions or concerns please contact James or Tanis at the M.D. Office at 780-842-4454.
Annual Calendar Photo Contest
Send us your photos that capture the diversity of our agriculture industry and the environment within the M.D. of Wainwright.
For more information on how to enter click here.
Agricultural Service Board News & Events
ASB news and events announcments have been moved to the ASB page here.
Road Ban Notice
All road ban's in the M.D. of Wainwright have been lifted.
Public Sale of Land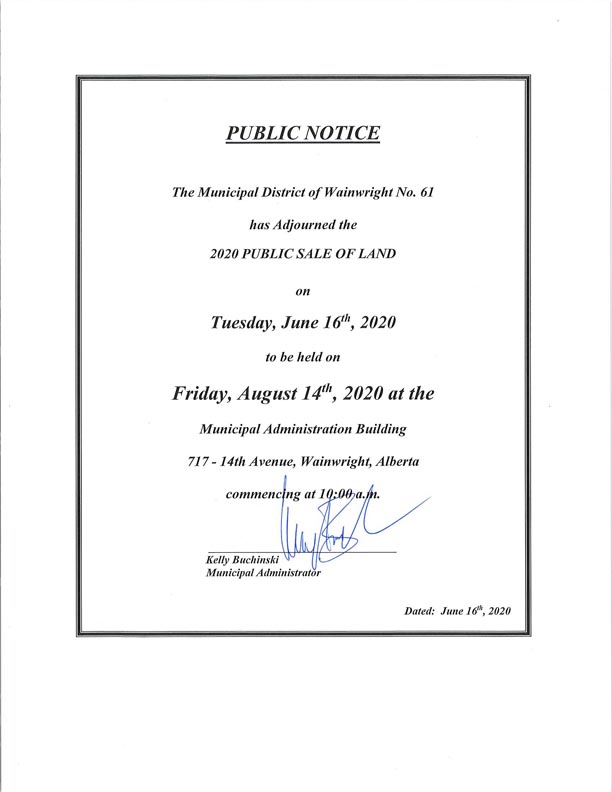 Campground Restrictions
All AHS social distancing rules will apply
At this time, the campgrounds will only be open to Canadian residents only
If you are experiencing any signs or symptoms of illness, please stay home. We are relying on honesty to help curb the spread
We are open to 100% capacity
Group Sites are open
Public Washrooms in the Clubhouse are open
Outdoor washrooms will be available
Beaches are open
18 hole golf course is open
Mini putt will be open
Firewood is available @ $7.00/ bundle (Riverdale Mini-Park Only)
The clubhouse is open for food services
Club rentals will commence
Tents will be permitted
Payments can now be made through PaySimply
The M.D. of Wainwright No. 61 is pleased to announce that you can now pay your taxes, utility bill and gravel invoice with your credit card through PaySimply.
We partnered with ATB Financial and through their unique partnership with PaySimply, you can now make payments with your credit card, within minutes.
Highlights include:
Secure – PaySimply doesn't store your payment information
Digital alternative to cheques and cash
You can earn points on any rewards credit card and have your taxes pay you back!
To pay your utility or gravel invoice with your credit card please go to https://www.paysimply.ca/Partner/Details.aspx?id=24857
To pay your taxes with your credit card please go to https://www.paysimply.ca/Partner/Details.aspx?id=24855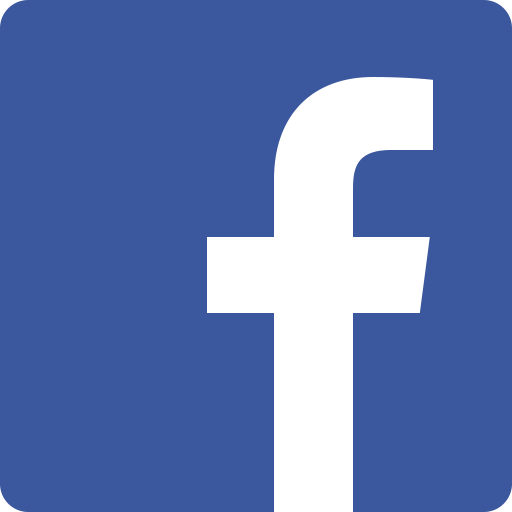 Join Us On Facebook