Riverdale Mini-Park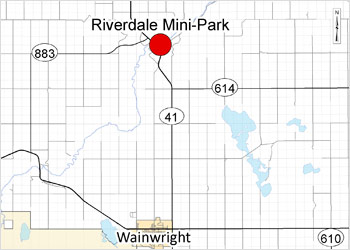 44 Full Service Campsites
72 Power Campsites
9 Hole Par 3 Golf Course
9 Hole Golf Course
5 Group Sites
6 Day Sites
RV Dump Station
Mini-Golf
Playground Area
Riverdale Hours of Operation 2017
May & June: 9 a.m. – 8 p.m. Friday's & Saturday's: 9 a.m. – 9 p.m.
July & August: 9 a.m. – 9 p.m. Saturday's & Sunday's: 8 a.m. – 9 p.m.
September 1, 2 & 5: 9 a.m. – 9 p.m.

September 3 & 4: 8 a.m. – 9 p.m.
September 6 - 30: Sunday thru Thursday: 11 a.m. – 4 p.m. Friday & Saturday 11 a.m. - 6 p.m.

Bookings Schedule
Seasonal & Monthly Only: April 18th & 19th
Seasonal, Monthly, & Weekly Only: April 20th & 21st
Accepting All Bookings: April 24nd – April 28th
Hours of Operation for April Bookings: 9 a.m. – 1 p.m. Closed Weekends
May 1st Regular Hours
For more information, please call 780-842-2996 (summer months) or 780-842-4454 (winter months)
The Riverdale Mini-Park is located in a picturesque river valley only 10 miles north of Wainwright on Highway 41, and is a beautiful location to play a round of golf or go camping with the family. It features a charming clubhouse with cafe, laundry area and showers, camping area with a sani-dump, ball diamonds, horseshoe pits, mini-golf course, playground, and river and beach area nearby. For the avid golfers, there are two nine-hole golf courses to challenge all skill levels. One course is a par-three course, with the other being a regular 9 hole golf course. The clubhouse carries golf carts for rental, as well as golf supplies.
The Riverdale Mini-Park is a great place to have your company picnic, golf tournaments, family reunions, family get-together, spend a weekend camping, or go golfing for the afternoon.