The M.D. of Wainwright is situated in the heart of the agriculture and oil industries and is a major partner with one of Canada's largest military training bases. This makes the M.D. of Wainwright an area of diverse wealth both socially and economically and allows us to provide our residents with many services and the benefit of low taxes.
In addition, the M.D. of Wainwright offers various historical and recreational attractions for residents and visitors.
The M.D. of Wainwright is a progressive community that is a great place to live, work and raise a family. We are glad to welcome you.
Property Taxes Due November 30th, 2017
Just a reminder that taxes for the M.D. of Wainwright are due on or before November 30th, 2017.; Taxes can be paid at the M.D. of Wainwright Administration office at 717 14 Avenue Wainwright by Cheque, debit card, money order or cash. Payments can also be made through most finacial institutions or online banking. For mailed payments the postmark will determine the date of payment for anything that is mailed. After taxes have been paid for 2017 you can setup a pre-authorized debit to make equal monthly payments. The Tax Auto-Pay forms are available at the administration office or you can download a form from here.
Penalties: All taxes remaining unpaid after the due date of November 30th, 2017 will have a penalty of 12% imposed the day after the due date.
Beavers in Our Landscape
A workshop on understanding and living with beavers.

Please join us to share your knowledge and experiences, developed for Alberta natural resource managers, municipalities, landowners and others!

Attend this free workshop: Wednesday November 8th at Red Feather Ridge: Twp 494, 1.5 miles east of RR 80.

9:00 am: Registration and coffee

9:30 am to 3:30 pm: Workshop (includes lunch)

Click the poster to the left for more details.
Organizational Meeting
We are please to announce that Bob Barss remains Reeve and Ted Wilkinson remains Deputy Reeve at the Organizational Meeting held on October 23, 2017. A list of all appointments to committees will be posted soon.
2018 Calendars are in
The 2018 M.D. of Wainwright Photo Contest calendars are in. Ratepayers can get a copy at the administration office. Thank you to everyone who submitted photos this year, and congratulations to the winners.
January: Chuck Hutchinson "Waiting out the Storm"
February: Sheila Naugle "Crisp Morning"
March: Colette Thurston "There's Two of Us"
April: Elizabeth Goddard "Spring Anticipation"
May: Sherry Christensen "Plant '17"
June: Damon Zajic "Summer Skies"
July: Heather Dubreuil "Hey Brother, What you Looking at?"
August: Margaret Hiller "Sunflowers"
September: Sheri White "Electric"
October: Damon Zajic "Race to the Rain"
November: Doug Kimball "Looking for a Girlfriend"
December: Sheri White "Silent Sentinel"
Front and Back Cover: Sherry Christensen "Last Stop"
Back Page: Judy Nemyo "Mother Nature is still Boss"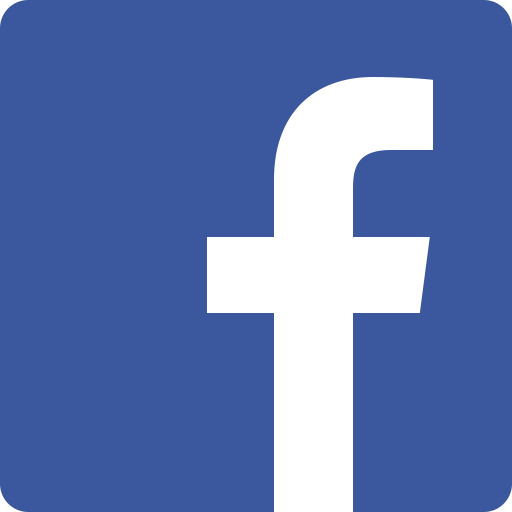 Join Us On Facebook
Road Closure Update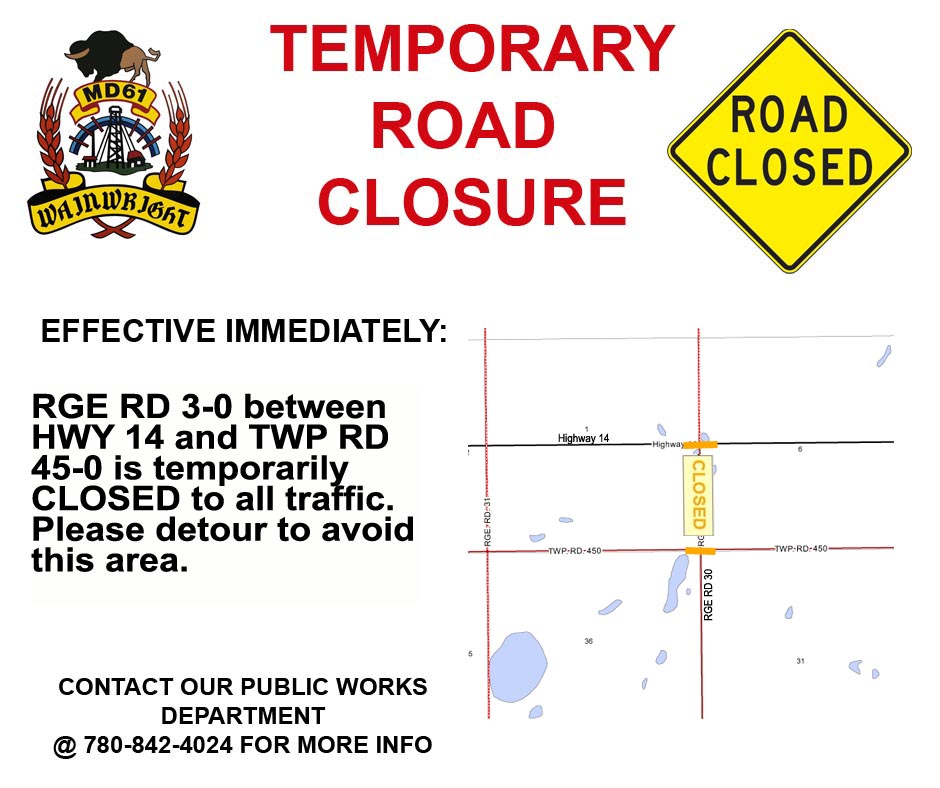 CLUBROOT OF CANOLA IS NOW HERE
It is recommended that all landowners ensure that any farm, industrial, recreational equipment or vehicles entering your land is clean of all dirt and/or field residue.
Clubroot of Canola is transferred by soil and it is
YOUR RESPONSIBILITY
To ensure foreign soil is not transferred onto your land.
Also be reminded that if you are purchasing equipment/machinery, using custom operators, have industrial traffic or allow recreational vehicles on your land it is
YOUR RESPONSIBILITY
To ensure the equipment is clean and free of dirt/field residue prior to it entering your land.
For more information:
Contact the M.D. of Wainwright
Office at 780-842-4454
Road Closure Update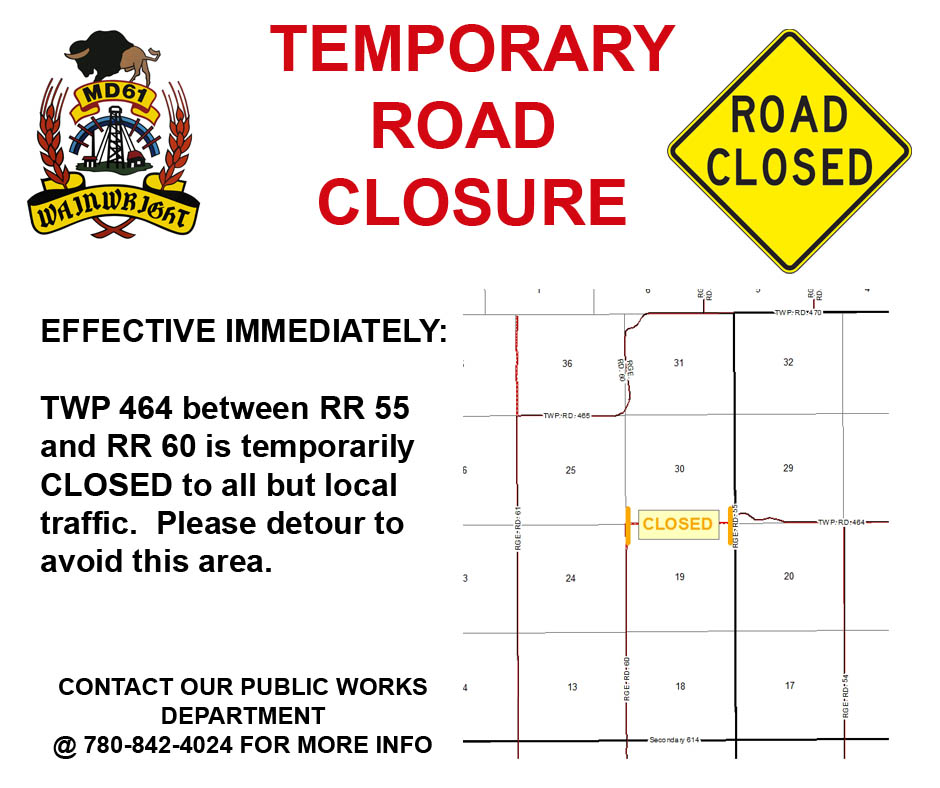 The M.D. of Wainwright has re-opened the 4 miles West of highway 897 on Twp Rd. 454.
The 1 mile of construction road on TWP 464 between RR 55 and 60 is still closed.
Thank you for your cooperation.
Information about Alberta's Agricultural Service Boards
The Agricultural Service Board Grant Program promotes long-term sustainability of agriculture industry and rural communities and the development and delivery of environmental extension programming. ASBs are responsible for implementing and enforcing legislative requirements under the Agricultural Service Board Act, the Weed Control Act (WCA), the Agricultural Pests Act (APA), the Soil Conservation Act (SCA) and assist with the control of animal disease under the Animal Health Act (AHA). Full document can be download here.