The M.D. of Wainwright is situated in the heart of the agriculture and oil industries and is a major partner with one of Canada's largest military training bases. This makes the M.D. of Wainwright an area of diverse wealth both socially and economically and allows us to provide our residents with many services and the benefit of low taxes.
In addition, the M.D. of Wainwright offers various historical and recreational attractions for residents and visitors.
The M.D. of Wainwright is a progressive community that is a great place to live, work and raise a family. We are glad to welcome you.
Water Loss at Fayban - September 18, 2017
The water is currently off in Fayban due to a Fortis power issue. A tech has been dispatched and will have the water back on as soon as possible.
Nomination Day Results
You can find the official results of the 2017 Municipal District of Wainwright No.61 Nomination Day results here.
The Municipal election will be held on October 16th, 2017, advanced voting is October 5th, 2017 and Nomination Day is September 18th, 2017 between 10:00 a.m. and 12:00 Noon. All information can be found on the Elections Page here.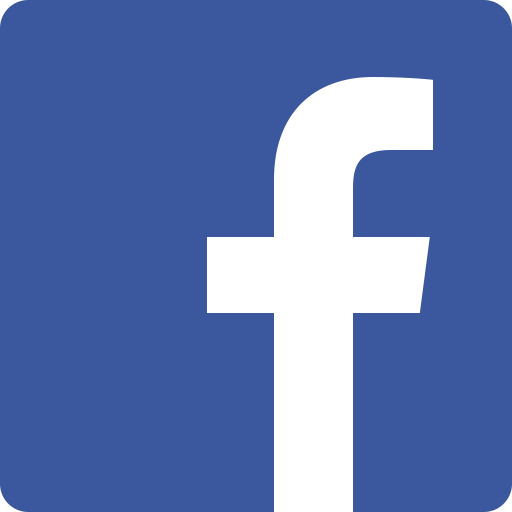 Join Us On Facebook
Division 3 Contact Information
Please take notice that the M.D. of Wainwright has decided to defer the election of the vacant Councillor position in Division 3 to the next General Municipal Election scheduled for the fall of 2017 instead of holding a by-election in the interim.
In the meantime, ratepayers and residents of Division 3 with issues or concerns involving roads, weeds, drainage, pests and other concerns may contact the following:
M.D. Administration Office - 780-842-4454
Reeve Bob Barss - 780-842-7309
Deputy Reeve Ted Wilkinson - 780-806-0315
Water System Generator Project
The Municipal District of Wainwright No. 61 invites prices for the supply and installation of a new 25KW level II sound enclosure generator set. The project will be in the M.D. of Wainwright No. 61 at the Hamlet of Fabyan and the Hamlet of Greenshields water treatment facilities. Interested contractors are invited to review the detailed project package for additional information. The package may be obtained at the M.D. office, 717 – 14th Avenue, Wainwright, Alberta during regular business hours.
The M.D. of Wainwright reserves the right to waive informalities in, or reject any or all prices, or accept the price deemed most favorable in the interest of the M.D. The lowest or any price may not necessarily be accepted.
Submissions marked "Water System Generator Project" will be accepted until 10:00 a.m. MST. September 26, 2017 at the address indicated below.
For additional information or questions please contact Preston Iverson, Director of Transportation at 780-806-3055.
Municipal District of Wainwright No. 61
717 – 14th Avenue
Wainwright, Alberta
T9W 1B3
Road Closure Update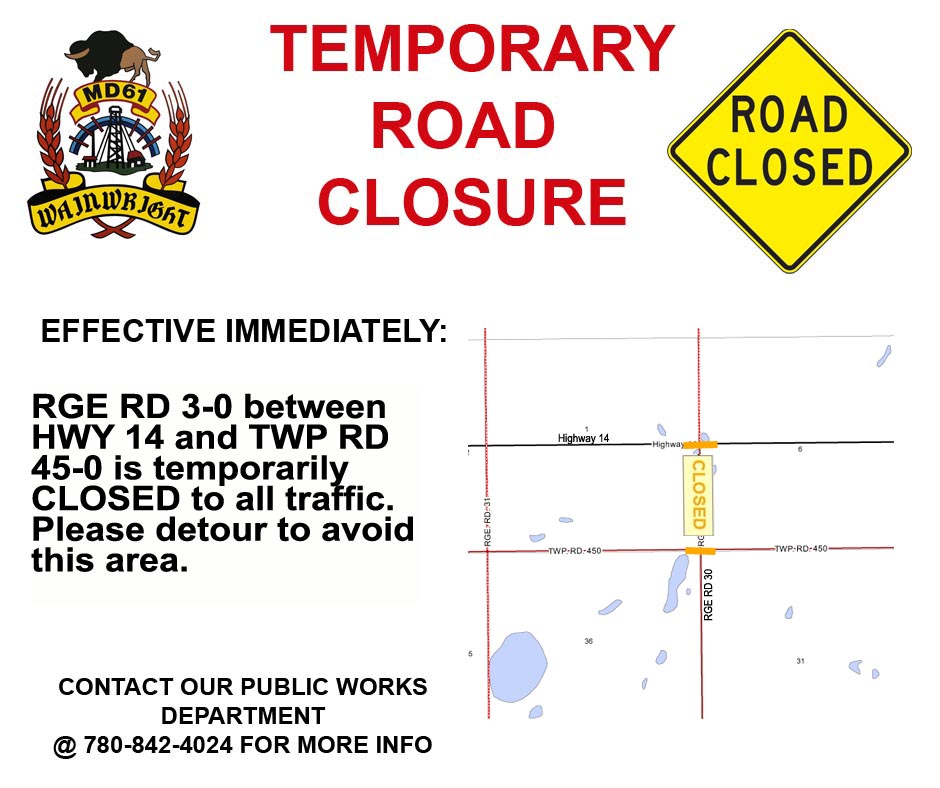 Notice of Nomination Day
Local Authorities Election Act (Section 26)
Local Jurisdiction: Municipal District of Wainwright No. 61, Province of Alberta

Notice is hereby given that Nomination Day is September 18,2017 and that nominations for the election of candidates for the following offices will be received at the location of the local jurisdiction office set out below between the hours of 10:00 am and 12:00 Noon on Nomination Day.

Each nomination paper must be accompanied by a $100.00 deposit in cash, Certified Cheque or Money Order.

| | | |
| --- | --- | --- |
| Office(s) | Number of Vacancies | Ward or Electoral Division Number |
| Councilor | 1 | Division 1 |
| Councilor | 1 | Division 2 |
| Councilor | 1 | Division 3 |
| Councilor | 1 | Division 4 |
| Councilor | 1 | Division 5 |
| Councilor | 1 | Division 6 |
| Councilor | 1 | Division 7 |

Location (Address) of Local Jurisdiction Office:



M.D. of Wainwright No. 61 Administration Building
717 - 14 Avenue
Wainwright, AB, T9W 1B3


Dated at the Town of Wainwright, in the Province of Alberta, this 31st day of August, 2017.
CLUBROOT OF CANOLA IS NOW HERE
It is recommended that all landowners ensure that any farm, industrial, recreational equipment or vehicles entering your land is clean of all dirt and/or field residue.
Clubroot of Canola is transferred by soil and it is
YOU'RE RESPONSIBILITY
To ensure foreign soil is not transferred onto your land.
Also be reminded that if you are purchasing equipment/machinery, using custom operators, have industrial traffic or allow recreational vehicles on your land it is
YOU'RE RESPONSIBILITY
To ensure the equipment is clean and free of dirt/field residue prior to it entering your land.
For more information:
Contact the M.D. of Wainwright
Office at 780-842-4454
Alberta Leaders Training
Take advantage of Local Government Training session, at no cost. The sessions are designed to help candidates:

understand the significance, character, roles and responsibilities of an elected official in local authorities
Appreciate the significance of and legal obligations associated with local authority office
Understand the basic requirements of running an ethical campaign
Develop the understandings that will permit potential candidates to decide whether local authority office is something to which they truly aspire
Understand the requirements of running well-organized effective campaigns
Understand rights and obligations of candidates and candidate's agents with the election administration regime

For more information, or to register for a session, go on-line to: albertaleaders.ca or call 780.796.3836
Road Closure Update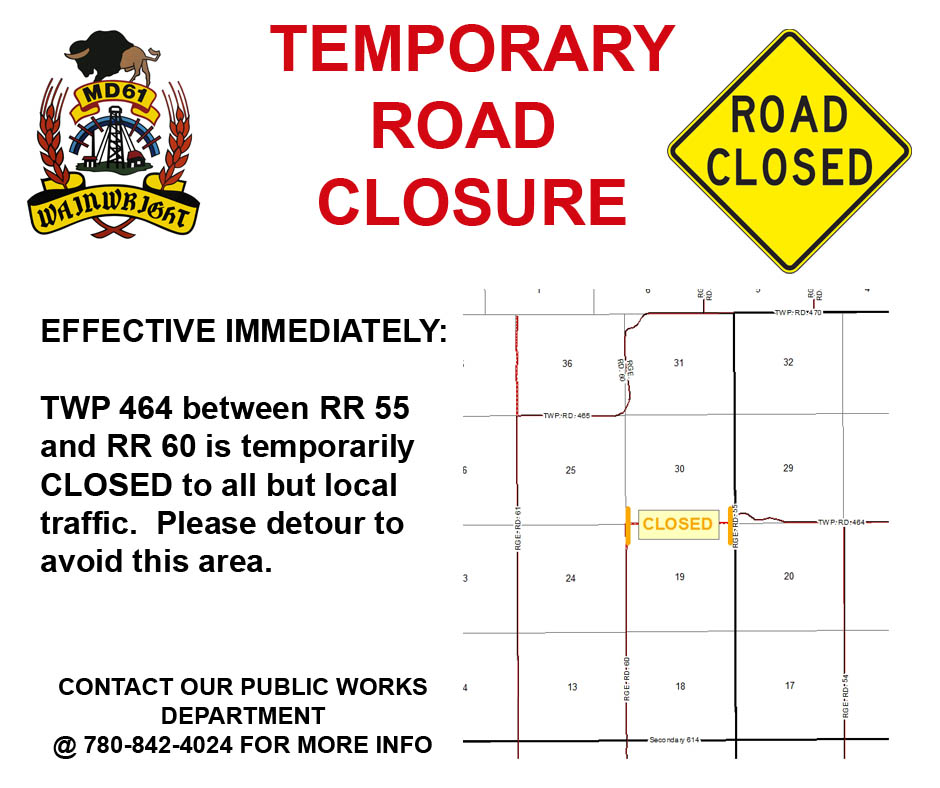 The M.D. of Wainwright has re-opened the 4 miles West of highway 897 on Twp Rd. 454.
The 1 mile of construction road on TWP 464 between RR 55 and 60 is still closed.
Thank you for your cooperation.
Information about Alberta's Agricultural Service Boards
The Agricultural Service Board Grant Program promotes long-term sustainability of agriculture industry and rural communities and the development and delivery of environmental extension programming. ASBs are responsible for implementing and enforcing legislative requirements under the Agricultural Service Board Act, the Weed Control Act (WCA), the Agricultural Pests Act (APA), the Soil Conservation Act (SCA) and assist with the control of animal disease under the Animal Health Act (AHA). Full document can be download here.